ReelSmart is excited to announce that we've been recognized as one of the top B2B service providers of 2021 in the New York, NY area with a Local Excellence Award from UpCity! The UpCity Recommendability Rating was developed to determine a service provider's credibility and recommendability, giving UpCity the confidence to recommend them to the more than 1.5 million businesses that visit their site. 
Each year, UpCity analyzes and scores more than 70,000 service providers based on their UpCity Recommendability Rating and acknowledges the top national and local providers with an UpCity Excellence Award. The results are in, and we won!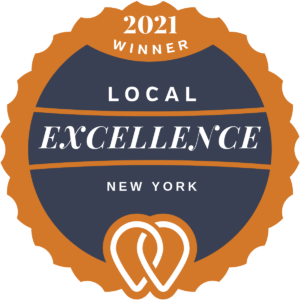 Heidi Sullivan, SVP of Product and Marketing at UpCity, had this to say about ReelSmart Productions:
"The ReelSmart Productions team offers some of the most exceptional video production services on our platform. The quality of their work is unmatched, and their team is highly personable and professional. From everyone at UpCity, congrats on this milestone. We can't wait to see what you do next."
– Heidi Sullivan, SVP of Product and Marketing
This recognition has been driven in large part by our 5-star review rating on UpCity. Here are a few of our favorite pieces of feedback we've received from our incredible customers:
"Working with Keith to shoot the promotional video for our company was very turn-key and the final product was beyond our expectations. Keith understood our vision immediately and executed it to a tee. We strongly recommend Keith and the ReelSmart team to anyone looking for videography."
-Nick Cugine, ReelSmart Productions Customer
"Keith and ReelSmart were exactly what we needed. My client was in the middle of a capital campaign and needed to quickly produce a high-level stewardship video for a former donor who had slipped away from the organization. In the midst of the campaign, we didn't have much time to provide direction or micro-manage the project. We gave Keith our storyline, scheduled the interviews, and let him drive the process and editing. We were shocked by how great the final product was without us having to do much at all. Keith is a first-rate videographer, editer, and content strategist and he works quickly without drama. Couldn't recommend him any higher."
-Griffin O'Shea, ReelSmart Productions Customer
"This is our third time working with Keith and ReelSmart and he always does a great job guiding the shoot itself and delivering a quality finished product."
-James McGrath, ReelSmart Productions Customer
Needless to say, we're stoked by the Local Excellence Award honor. Thank you to UpCity for recognizing our hard work and our established relationships with our clients in NYC and beyond. We absolutely love what we do and couldn't imagine being anywhere else. Thank you to our clients, too. We appreciate the fun, challenging projects. Here's to more in 2021 and beyond!